Father Todd Reitmeyer was killed in a jet ski accident while vacationing in Texas on May 24. Father Todd graduated Class of 1993 from Texas A&M University, and received his Masters from Northwest Missouri State University. He was ordained as a priest of the Diocese of Sioux Falls, South Dakota on June 13, 2003.

Note from the Aggies Away administrator: We have received several requests for Father Todd's prayer cards from other Aggie Catholics who will not be able to attend the funeral or scripture and rosary vigil. Harry Tajchman has posted the final version of the funeral card

here

for anyone who would like to see it.

Catholic Diocese of Sioux Falls: Priest of the Sioux Falls Catholic Diocese killed in Texas water accident (page no longer available)

Father Todd's blog
A Son Becomes a Father: A Son returns to his Father

A Son Becomes a Father: More information about Fr. Todd's Funeral

"We know that in everything God works for good for those who love Him." -Romans 8:28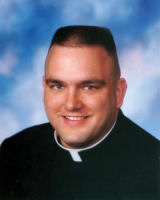 Father Todd Reitmeyer
Born 1969
Fightin' Texas Aggie '93
Ordained 2003
Returned to his Father 2006
You stand spellbound,
you scarcely breathe.
With heavy heart
you turn to leave.
Your Aggie friend
no more you'll see,
Till Silver Taps
is blown for thee.
Silver Taps at A&M
Will always be
our farewell hymn
To those who've gone
to heights unknown.
With Silver Taps,
he journeys on.
from: Silver Taps at A&M
By Mrs. Jeanette Hennigan